The cover art

Developer(s)
Nintendo EAD Group No. 2
Publisher(s)
Nintendo
Producer(s)
Shigeru Miyamoto
Director(s)
Designer(s)
Keizo Ohta

Takayuki Shimamura Yoshikazu Yamashita

Composer(s)
Kazumi Totaka
Console
Wii
Release dates
NA November 19, 2006

JP December 2, 2006 AU December 7, 2006 EU December 8, 2006

Series
Wii Sports series
Genre(s)
Sports
Mode(s)
Single-player, multi-player
Distribution
Optical Disc
Predecessor
None
Successor
Wii Sports Resort
Wii Sports is the first installment in the Wii Sports series and one of the launch titles for the Wii. It was an extremely innovative game, being a realistic sports simulator game, featuring five sports: tennis, baseball, bowling, golf, and boxing. It went on to become the best-selling video game of all time. Wii Sports is part of both Nintendo's Touch! Generations brand and the Wii series.
Overall, Wii Sports has been well received by critics and received awards from the gaming press and entertainment community. It is the best-selling video game of all time as of April 2013, having outsold the previous best-seller, Super Mario Bros., also published by Nintendo.[1] As of March 31, 2013, million copies of the game had been sold worldwide.[2] The game has become a popular means for social gatherings and competitions among players of varying ages.[3][4] It was followed by a sequel, Wii Sports Resort, in 2009. Wii Sports Club, which features high-definition remakes of the games with Wii MotionPlus support, is available for Wii U on November 2013.
Release dates
The game was a launch title for the Wii.
 

North America: November 19, 2006
Japan: December 2, 2006
Australia: December 7, 2006
Europe: December 8, 2006
Gameplay
Wii Sports consists of five separate sports games: tennis, baseball, bowling, golf, and boxing, accessed from the main menu.
The games use the motion sensor capabilities of the Wii Remote and Nunchuk attachment to control the actions of the on-screen character. The player moves the remote in a similar manner to how the separate games are played in real life; for example, holding and swinging the Wii Remote like a golf club, baseball bat or bowling ball. Some aspects of the gameplay are computer controlled. In tennis, player movement is controlled by the Wii, while the swinging of the tennis racket is controlled by the player. Baseball consists of batting and pitching, with all of the fielding and base-running handled by the Wii.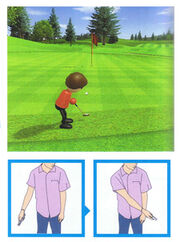 Each game features a standard play mode, training mode , and multiple player options. The standard play mode mimics each game's respective method of play: tennis, a doubles match; baseball, a simple three-inning game of pitching and batting; bowling, a ten-pin, ten-frame game; golf, playing on a 3-hole or 9-hole golf course; and boxing, a three-round boxing match.
Training mode is a single player option that allows a player to practice certain aspects of the sports and rewards them with Medals. Every game has a single-player or two-player mode, and some games allow up to four players via various methods. Bowling and golf allow for multiple players taking turns with a single Wii Remote, while tennis, baseball and boxing requires each player to have their own. The multiplayer mode for Wii Sports usually has the players competing against each other in the normal manner of the specific sports; the one exception is tennis which allows for two players to play together or against each other.
Sports
The game features five sports, each sport having a training mode.
Reception
Wii Sports received mixed to positive reviews from critics. It received a score of 76.28% on GameRankings and 76/100 on Metacritic. GameTrailers called it a good complement to the Wii system and referred to all five games as a "nice total package". They commented that the games provided enough gameplay for long time gamers without making it inaccessible to novices. GameTrailers stated, however, that the lack of a tournament mode was a detractor, and did not recommend paying for the game if it did not come bundled with the system. GamePro also commented that the free addition of Wii Sports with the Wii was a positive.
Reviewers praised the game's controls and ease of use. Casamassina referred to the controls as "revolutionary" and described them as intuitive. GamePro echoed similar comments, praising the ease of play and realistic motion controls, while Davis commented that the motion controls were sometimes erratic. Common criticism focused on the graphics and lack of depth in the separate games. Casamassina stated that the game "comes up short in depth and visuals", and called the graphics "generic" and "archaic". Other reviewers said the graphics were on par with Nintendo's older gaming systems, the Nintendo GameCube and Nintendo 64.
The separate games garnered their own reception among critics. Some reviewers called all the sports "fun and addictive", while Tom Bramwell, reviewer of Eurogamer said Baseball, Golf, and Boxing were lacking in gameplay depth when compared to Tennis and Bowling. PC Magazine columnist John C. Dvorak, praised the realistic physics used in bowling and stated, "Nintendo did a stupendous job of coding." He complimented the addition of physical activity to video gaming, but complained that long term use caused his wrist and shoulder to become sore.[5] GameTrailers called golf the most in-depth, but criticized the lack of multiple courses and unpredictable controls when trying to slice or hook a shot. GamePro said golf offered the most content and was the best looking of all the games, but commented that its controls were the most difficult to use. GameTrailers called tennis the most accessible and easy to play, but criticized the difficulty of putting spin on a shot. GameTrailers called baseball the most "worthless" because of the luck factor associated with the computer-controlled fielding. They called boxing the best workout on Wii Sports, but criticized the difficult timing needed to punch properly.
Sales
Wii Sports has been immensely successful commercially. At the end of 2007, it was the best-selling Wii game. In Japan, where the game was not included with the system, the game sold 176,167 copies in the first two days of release, a record for a seventh generation console game in Japan.[6] By February 2007, it had sold over a million copies.[7][8] In early May 2007, game-industry research firm Media Create placed Wii Sports third in their list of top-20 games in Japan.
Gallery
See main article: Gallery:Wii Sports
Trivia
References
External links